Dr. Theodore Antonetz, D.P.M.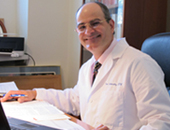 Dr. Theodore Antonetz is a board-certified podiatrist with over 20 years of practice experience in providing comprehensive medical and surgical foot care. Since 1989, Dr. Antonetz has treated successfully patients with a wide range of foot conditions at his New York City practice. In addition to his practice duties, Dr. Antonetz also holds hospital affiliations at NYU Downtown Hospital, Gramercy Surgery Center, Incorporated and Fifth Avenue Surgical Center.
Dr. Antonetz completed his undergraduate degree in Biology from SUNY New Paltz, before graduating cum laude with his podiatry degree from the New York College of Podiatric Medicine. After his education, Dr. Antonetz completed surgical residency training at Peninsula Hospital Center through the residency program at New York College of Podiatric Medicine.
Actively involved in his chosen field, Dr. Antonetz is a member of several professional organizations, including the New York State Podiatric Medical Association, American Podiatric Medical Association and the American College of Podiatric Orthopedics and Primary Podiatric Medicine.